Consultant Carl Aksel Kragh Sørensen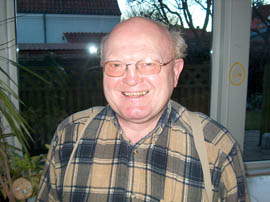 Following the discontinuation of the production at the 'Petersminde' Greenhouse and the sale of the breeding programme Cape Daisy®, my consultancy firm undertakes various jobs in the greenhouse business, e.g. for PLA® int ApS and Sakata Ornamental Europe A/S.
As the owner of the 'Petersminde' Greenhouse, I have more than 50 years of experience in the Danish and European greenhouse business. 'Petersminde' was known as an innovative business, leading in the breeding of ornamental plants in Denmark in among others Orchids, Schefflera, Asters, Campanula, and primarily Osteospermum.
Through my consultancy firm, I now offer my experiences and know-how - as an owner and breeder and as a producer and coordinator of cuttings primarily for the European market.
Konsulentfirmaet C. A. Kragh Sørensen
Ludvig Holbergsvej 4A
DK-8230 Åbyhøj
Mobil: +45 2191 7688
Telefon: +45 8625 7424
Email:
www.petersminde.dk